IFC order processing databases are fully integrated with warehouse management, inventory control, shipping, and reporting. Our FedEx, UPS, and USPS Endicia shipping systems are fully integrated with Multichannel Order Manager and our SQL Server databases. The process is to scan the barcode on the custom designed packing slip and generate the shipping label. IFC glues and affixes a packing slip label onto the package. There is no possibility of the label becoming detached from the package. All fulfillment orders have a tracking number from UPS and FedEx. The tracking information and expected delivery date is emailed to the consignee at the end of the day. All shipping information is exported from the shipping systems, integrated into the proper database and available for immediate access.
Our clients are provided online order tracking via online portal . Reports can be sent to our clients or our clients can Internet access their own custom-designed reports.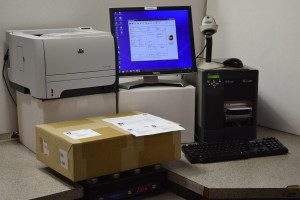 COURIER SERVICES
IFC maintains a small fleet of vans & trucks for rapid delivery throughout the entire Baltimore - Washington metropolitan area. Our drivers are employed by IFC and are medically examined, screened, and certified annually in accordance with FMCSR 49 CFR 391.41 --- 391.49. Courier drivers have years of experience in the pick-up and delivery of government installations and protocol. Deliveries can be made within the Washington DC metropolitan area within a 2 hour timeframe.
Back to Technology & Systems