Warehousing & Distribution
IFC operates nearly 100,000 square feet of neat and organized office and warehouse space. Bulk pallet storage is organized in racks and mezzanines. The warehouse is air conditioned and designed for inventory management. Shelf storage is used for picking and partial cartons.
Material handling equipment includes fork-lifts, pallet jacks, and hand trucks. There are two warehouse locations--both located in Maryland just blocks apart.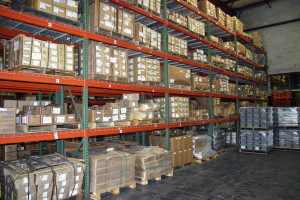 Inventory Storage
The entire building is protected by a sprinkler system and smoke detectors. Contact sensors and motion detectors also safeguard the building. A Central Station vendor monitors all of these systems. Access to the site is restricted to authorized personnel that are issued unique passcodes and authorization levels. Opening and closing reports are generated by our security service, which document individual activity. These reports are sent regularly to IFC.
Inventory Controls
It has been our focus to concentrate on accurate order picking to eliminate inventory discrepancies. By accurately receiving inventory, storing in a neat and clean environment, and having accurate picking eliminates inventory shortages.
Inventories are handled two ways depending on the needs or requirements of our clients:
1. Physical Inventory
For some our accounts we do a full physical inventory every month. Each shelf item is counted and each bulk location is counted. This same process maybe done on a quarterly basis or an annual basis depending on the requirements of our clients.
2. Cycle Counting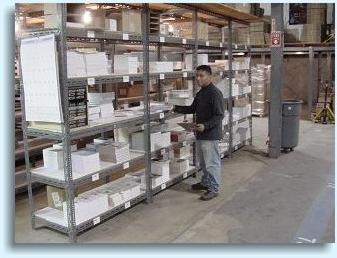 IFC utilizes the standard A B C cycle counting methodology. A items, those most active are counted each month. B items, moderate movers, are counted four times per year. C items, inactive or slow movers, are counted a minimum of two times per year.
IFC will set-up a web page portal for inventory and transaction look-up. On a daily basis IFC will update the portal with current inventory and transaction data. Our clients are able to access the information for visual look-up or download. IFC staff creates these reports and web pages. Any unique requirements or customization can be easily provided.
Back to Services & Solutions